What a whirlwind of a month! Our little girl joined us in early February, and let's just say that I've been a little busy!! Now that we've established a routine, I am catching up on my blog posts!
I read a good amount of fantasy books in January, as well as a 5-star read! (Haven't had one of those in a while).
Here are the books:
The Dragon Republic (The Poppy War series #2) by R.F. Kuang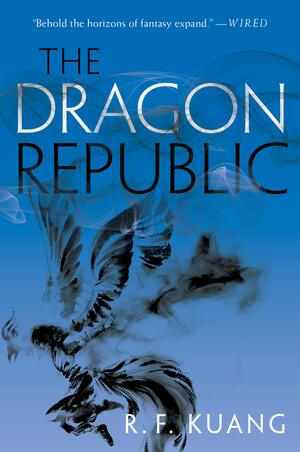 I can't get enough of The Poppy War series! The Dragon Republic was incredible. While The Poppy War felt like a slow burn, this book was very fast-paced and filled with action. I enjoyed every moment.
The Burning God (The Poppy War series #3) by R.F. Kuang
The final book of The Poppy War series doesn't disappoint. The ending is fantastic. I don't want to give much away, but you can read more about my thoughts on the series here.
And Every Morning the Way Home Gets Longer and Longer by Fredrik Backman
This novella fell a little flat for me … which was surprising. It was hard to follow and I couldn't connect with the story. I'm happy to share, however, that I've read all of Backman's work!
Weather Girl by Rachel Lynn Solomon
This book was funny, quirky, romantic, and super entertaining! The characters are lovable and you root for all of them! You can learn more about why I loved this book in my review.
The Drowning Faith (The Poppy War series #2.5) by R.F. Kuang
Nezha is one of my favorite characters in The Poppy War series, so I was so happy when a fellow bookstagrammer let me know that Kuang wrote a collection of short stories from his point of view. Definitely wish it was longer, but I enjoyed hopping back into the series and learning more about his story.
The Wicked King (The Folk of the Air series #2) by Holly Black
I am still forming my thoughts on this complicated series that I wanted to love so much, but I will say that the books are short, fast-paced, and interesting enough. I felt like this book dragged a little in terms of plot, and left me wanting more at the end. Luckily there was one more book in the series…
The Queen of Nothing (The Folk of the Air Series #3) by Holly Black
…and it fell flat! I plan on writing a full series review, but throughout the books, I always wanted more. I wanted more from the prose, the plot, the characters … it was disappointing! I read them and instantly forgot about them. Not much of an impression.
Red White & Royal Blue by Casey McQuiston
But thank goodness for this one! One of my first 5-star reads in some time. I absolutely ADORED this book. It's perfect. The characters, the politics, the romance, the steam. I loved every second of it. More to come, but I can see why this is a reread for so many folks!